Written by Erik J. Martin The Mortgage Reports Contributor
Mortgage rates have been unbelievably low lately.
That's due to several factors, including the Fed's recent decision to cut interest rates.
But will they remain low for long?
According to industry experts, there's a good chance they will. Freddie Mac — one of the industry's leading authorities — sees rates holding around 3.7% all the way through 2020.
But a prediction is far from a guarantee.
It seems likely that buyers and refinancers will be able to take advantage of historic low rates for the foreseeable future. But if you're seeing affordable rate quotes today, don't hesitate to lock.
Verify your eligibility for a historic low rate. Start here (Sep 26th, 2019)
What Freddie Mac predicts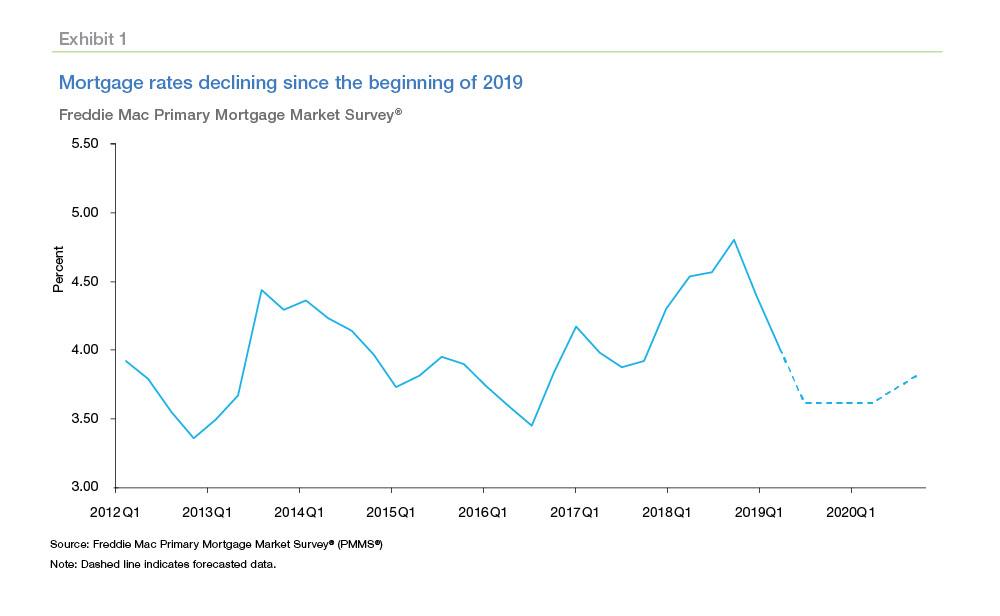 Freddie Mac (FHLMC) is a public, government-sponsored entity that backs consumer mortgages.
It's also a primary industry source for interest rate tracking and forecasting.
Freddie Mac predicts average mortgage rates will level out at 3.9% for 2019 before dropping to 3.7% in 2020.
Recently, Freddie Mac published a housing market forecast, which explained that global uncertainty has put downward pressure on interest rates.
As a result, Freddie Mac predicts that the 30-year fixed-rate mortgage will remain around 3.6% through the second quarter of 2020.
It also projects the annual average rate to be 3.9% in 2019. That's before dropping to 3.7% next year.
What's behind this prediction
Many of the forces pushing rates lower in 2019 will still be at play in 2020 — along with some new ones:
Rates already reached near-record lows in August and September of 2019
Trade wars and fear of a pending recession can push rates lower and up investment in mortgage-backed securities
A 2020 election makes it less likely the Fed will raise interest rates next year, but increases market volatility
Mike Scott, senior mortgage loan officer for Independent Bank, says Freddie is predicting a 3.7% rate next year because rates are already just about there anyway.
"Combine that with the predicted downturn in the economy and there will likely be a flight to quality," he says.
"That's because people will want to move money out of the stock market and into what they perceive as safer investments. These can include Treasury bonds and mortgage-backed securities."
Lawrence Yun, chief economist for the National Association of Realtors (NAR), says Freddie Mac's estimate is close to that predicted by the NAR: 3.6% in 2020.
"The Fed is unlikely to raise interest rates during an election year. Moreover, there is very little inflation right now. That allows the Fed to keep rates low for a prolonged period," notes Yun.
Andy Harris, president of Vantage Mortgage Group, Inc., also agrees with Freddie Mac's forecast and Yun's analysis.
"An election year and the result of the election can create significant market volatility. This can cause rates to go up or down," says Harris.
In addition, he notes, "Most economists predict a recession by 2021. And some mortgage-backed security experts believe the 10-year Treasury note will hit all-time lows."
If that happens, "mortgage rates would hit all-time lows in the near future," Harris adds.
Adding to market uncertainty are the trade wars between America and other countries.
"If a trade war leads to a recession, mortgage rates could possibly fall to as low as 3%. But if trade agreement can be reached and the economy booms, mortgage rates may reach 4%," explains Yun.
Rates aren't guaranteed to drop in 2020
Of course, Freddie Mac could be wrong. Mortgage rates in 2019 and 2020 could increase rather than drop.
"Rates could rise for three reasons," believes Yun. "First, the economy may be much better than anticipated. If so, the Fed may simply signal that it's a good healthy economy with no prospects of a further rate cut."
Second, consumer price inflation could unexpectedly creep higher. "That would force the Fed to slow the economy," Yun continues.
Third, government borrowing may get out of hand. "That would provoke bond investors to demand higher interest rates in order to hold onto the very large amount of U.S. Treasury bonds," adds Yun.
Scott insists that, for rates to rise, we would need to see a global economic recovery.
"A recovery in one country is nothing. We are all tied together by a global economy today," says Scott.
"So, given that rates are already at or very close to the rates predicted by Freddie Mac, the opportunity for rates to decline further is much lower than the chance they might rise."
Lock in now or wait for rates to drop further?
All of this begs an important question: Should you lock in a rate now and purchase soon, or sit things out in hopes that mortgage rates dip further?
For many, the answer is obvious.
"Consider that mortgage rates are already near 40-year lows. I would take advantage of low rates now, if you can afford to buy a home," Scott says.
Rates are already at historic lows — and they're more likely to rise than to fall further. Experts say: Don't pass on this opportunity in hopes of lower rates in the near future.
Jeff Sweyer, president/CEO of Century 21 Sweyer & Associates, seconds that sentiment.
"If borrowers or owners are looking to purchase or refinance, and they are in a financial position that makes sense for them, there's no doubt they should act now and take advantage of these low rates."
Harris agrees.
"If you are a consumer in contract to buy a home or show a strong benefit by refinancing, lock in a great rate today while we are still at historic lows. If you wait, just realize that it could result in a lost opportunity," says Harris.
Your next steps
Now is a great time to be in the home buying or refinance market. Rates are near record lows and predicted to stay that way through 2020.
But rates next year, next month, or even next week can't be guaranteed.
If you're seeing favorable rates now, don't hesitate to lock in and put yourself in a new home sooner rather than later.
Thank for reading!
Carissa
@TheAbaziaGroup